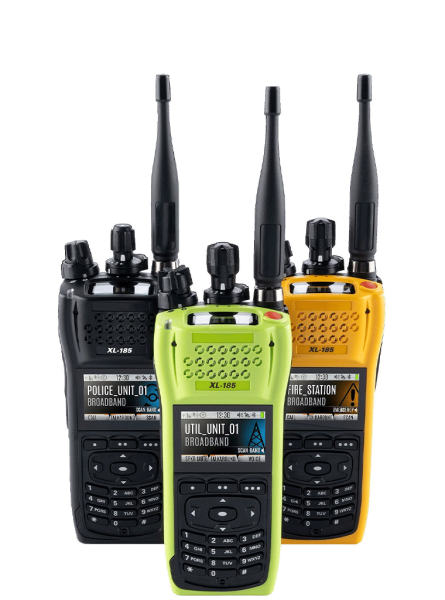 XL-185P Series
The L3Harris XL-185P is the industry's first and only single-band LTE LMR radio. Capable of operating on VHF, UHF, 700/800 or 900 MHz frequencies, this converged P25 portable merges robust LMR communications with voice and data over cellular, LTE and Wi-Fi®. The XL-185P is open standards-based, Verizon Certified and Band 14 ready, giving organizations a flexible upgrade path to emerging capabilities and networks as needs change.
Headsets
The XL-185P can be used with a wide variety of headsets and covert audio accessories to provide a complete user-gear solution for the industrial, public safety, utility and transportation markets. Heavy-duty and lightweight headsets are available with in-ear or over-the-ear hearing protection, flexible boom microphones with noise-reduction technology, and standard or remote PTTs. In addition, the XL-185P can be used with Bone Conducting Skull Headsets and Throat Microphone/Headset Kits. Covert audio kits are available in black or beige, 2-wire or 3-wire configura tions with ear-piece, microphone and PTT.
Carrying Cases
L3Harris offers a versatile line of carrying cases for the XL-185P single-band radio. Options include a standard belt clip and premium belt loop, providing the user a low-profile, integrated carrying option. In addition, a premium leather holster is available for attaching to a belt or wearing with the premium leather shoulder strap.
Chargers
L3Harris offers a variety of chargers for the XL-185P including Single-Bay, Multi-Bay and a Vehicular Charger for in-car charging. The chargers are designed to quickly and safely charge battery packs in approximately 1 to 4 hours.
Additional Accessories Available
Bluetooth speaker microphones, Bluetooth covert earpieces, standard speaker microphones, Lithium Ion battery, PC programming software and cables, other subminiature surveillance accessories, and antennas.