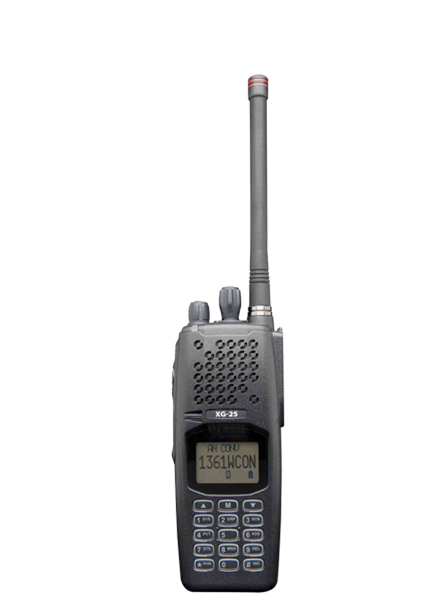 XG-25P Portable Series
The L3Harris XG-25P delivers exceptional audio and secure, reliable mission-critical communications. This budget-friendly, feature-rich portable is P25 Phase 2 capable, an ideal choice for organizations who want just one radio to manage their migration needs.
Designed for first responder and utility users on P25 and L3Harris legacy platforms, the XG-25P also supports EDACS®, ProVoice™ and OpenSky® systems. This flexible solution supports wideband and narrowband channels and has a software-defined architecture for in-field upgrades to new modes and capabilities.
An oversized speaker and AMBE+2™ vocoder combine for crisp, loud audio without distortion despite noisy environments. The ruggedized XG-25P exceeds extreme durability tests and is MIL-STD-810G certified. Equipped with a simplified interface for ease of use, the portable's knobs and keypad buttons are also highly responsive to gloved-hand operation. Standard security capabilities include choice of single-key AES and DES encryption.
Accessories
L3Harris offers a full complement of XG-25P accessories ruggedized for operations in extreme conditions.
Audio Accessories
The XG-25P can be used with a wide variety of audio accessories to provide a complete user-gear solution for industrial, public safety, utility and transportation workers. Heavy-duty and lightweight headsets are available with in-ear or over-the-ear hearing protection, flexible boom microphones with noise reduction technology and standard P-T-Ts. The XG-25P is also compatible with Bone Conducting Skull Headsets and Throat Microphone/Headset Kits. Covert audio kits are available in black or beige and in 2 or 3-wire configurations with earpiece, microphone and P-T-T.
Carrying Cases
L3Harris versatile, low-profile carrying cases easily integrate with the XG-25P. Options include nylon carrying cases, a standard belt clip, premium belt loop and a premium leather holster with a back clip. In addition, a premium leather holster is available for attaching to a belt or wearing with the premium leather shoulder strap.
Adapters
Addition of a GPS Adapter allows the XG-25P to transmit the user's geographic location to dispatchers, providing fast, accurate position tracking.
Additional Accessories Include
Antennas, Bluetooth® speaker microphones and covert earpieces, PC programming software and cables are also available.