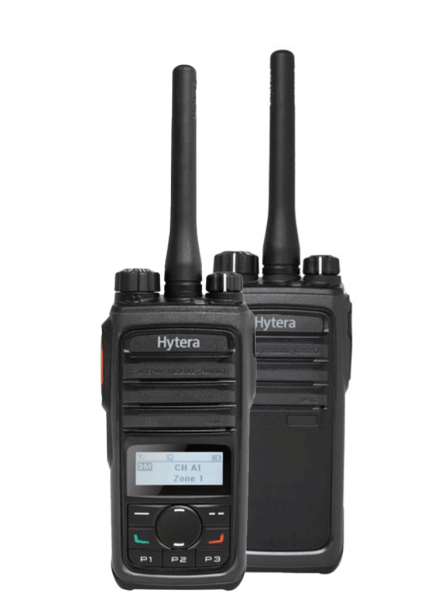 PD5i UL Series DMR Radios
The Hytera PD5i UL913 Series intrinsically safe two-way DMR radios are packed with functionality. The PD5i UL913 DMR radios are an excellent entry into digital communications. Its UL913 rating means it's suited for hazardous environments.
Today, safety is the most important thing we pursue in every aspect of life and work. Hytera understands the challenges in hazardous environments and is dedicated to designing and developing safer radios for more and more customers. Hytera believes it is rather urgent to provide an intrinsically safe radio to the commercial market. Build a radio with the classic housing to provide a small and light product. Design a radio to pass UL913 certification for most dangerous areas with explosive gas and combustible dust. Introduce a cost-effective radio with many more features for enterprises and commercial users.
Small, Sleek, Light
The size is 115 X 54 X 35mm (PD502i UL913)/115 X 54 X 37mm (PD562i UL913), dual-color injection, weight is 298g PD502i UL913)/ 311g(PD562i UL913).
Long Battery Life
In digital mode, PD5i UL913 Series operates up to 20 hours under a duty cycle of 5-5-90.
Rugged & Reliable
It is compliant with MIL-STD-810 G standards & IP54.
One Touch Call/Text Support
One Touch features that comprise Preprogrammed Text Messages, Voice Calls, and Supplementary Features.
Supplementary Features (optional)
PD5i UL913 Series supports radio enable, radio disable, and remote monitor, as well as priority interrupt.
Dual Mode (Analog & Digital)
Dual modes (analog & digital) operation ensures a smooth analog to digital migration.
Radio Registration Service
RRS allows PD5i UL Series to work in Smart Dispatch and SmartOne Dispatch systems so that the dispatcher can check if the radio is online or offline.
A&D Mixed Scan
PD5i UL Series supports to have analog channels and digital channels added in one scan list. This is more convenient for customers to have a smooth migration from analog radios to digital radios.
Secure Communication
Provide basic digital encryption and Scrambler feature in analog mode.
Advanced Signaling
Support multiple advanced analog signaling modes, including HDC1200, 2-Tone and 5-Tone, providing better integration into existing analog radio fleets.
Emergency Alarm
Emergency Alarm can be sent to other radios via one touch of programmable button, then establish an emergency call in a specific group. Make your response for big event more quickly.
Single-site XPT Trunking (optional)
PD5i UL913 supports working in Hytera XPT Trunking system, which is a cost-effective trunking system and provides dynamic assignment of voice and data service for a large number of subscribers.
Pseudo Trunk
This virtual trunking feature allocates a free time-slot for urgent communications. This effectively enhances frequency efficiency and allows you to communicate in a timely manner in emergency situations.