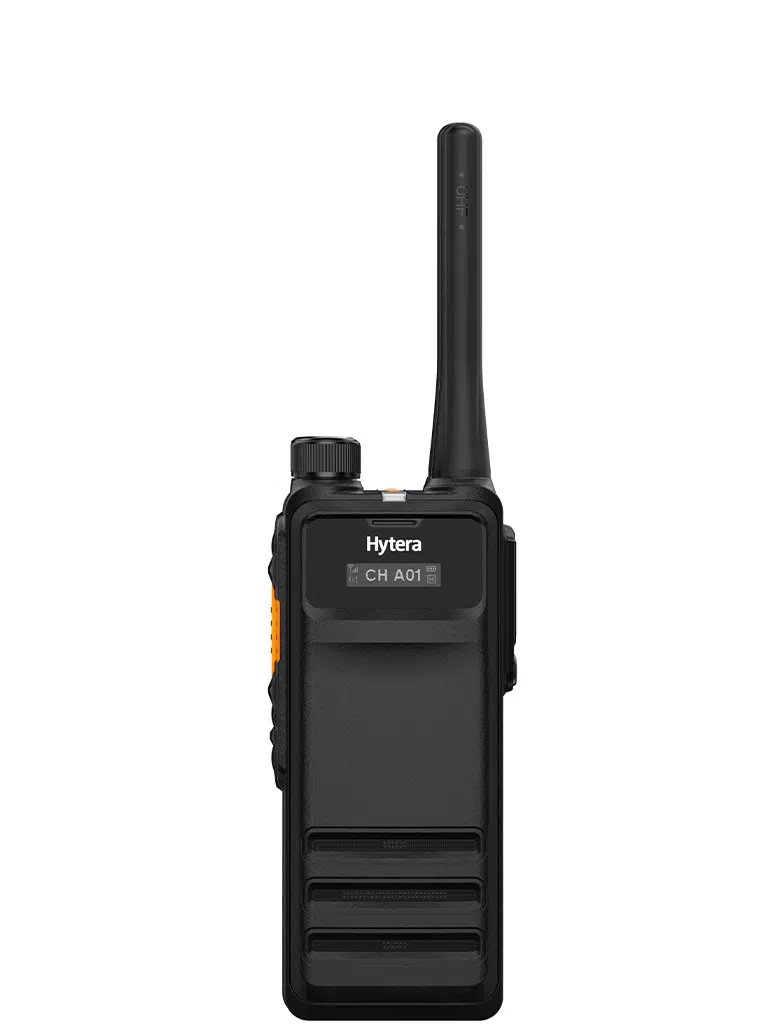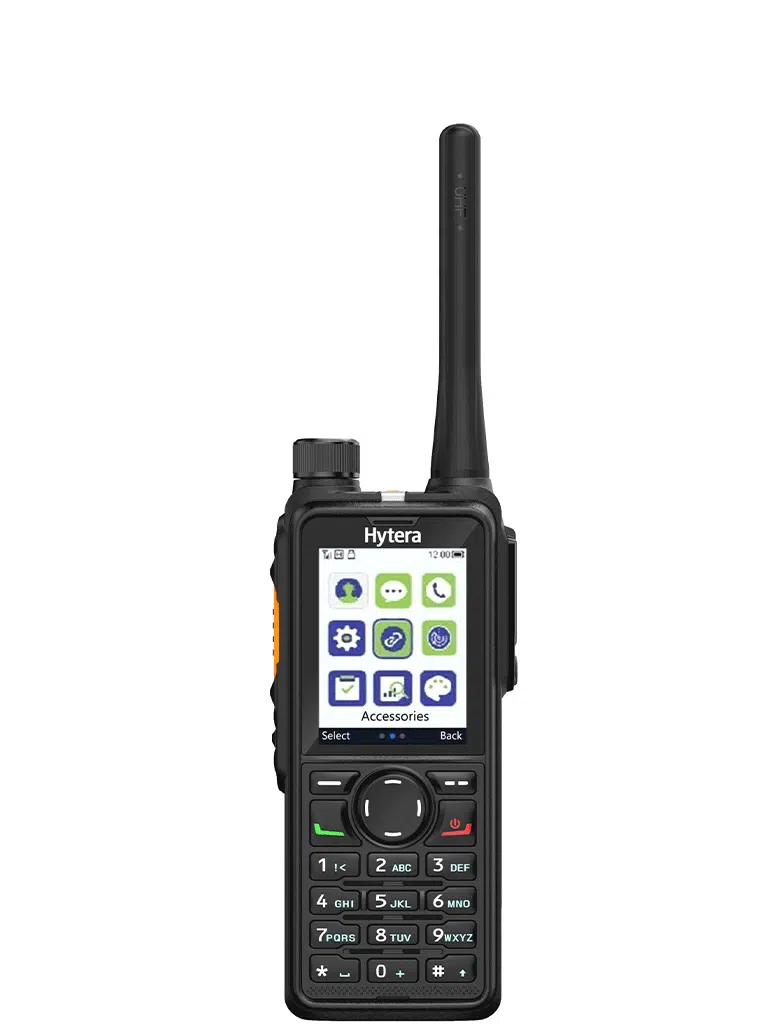 HP7 Series DMR Handheld Radios
The HP7 Series of DMR handheld radios is the next generation of professional digital two-way communications. Hytera's HP702 and HP782 radios are state-of-the-art, with AI-based noise suppression for improved audio, increased battery life, an intuitive user interface, extended range, remarkable portability, IP68 ruggedness, and support for single/multi-site trunking systems.
Louder and Clearer Audio
Hytera provides industry-leading audio quality through a large 36mm forward-facing optimized speaker that provides up to 93dB of loudness, and AI-based voice enhancement with deep learning ability that can accurately extract voice from noise in real time and decreases unwanted background noises as loud as 30db.  Water-porting technology quickly drains water out of speaker cavity to maintain audio clarity.
Thinner and Lighter
An optimized mechanical design with advanced materials, a 4.3mm speaker, and a lightweight lithium polymer battery delivers a compact radio only 29.5mm thick that weighs less than 11 ounces.
Higher Level of Ruggedness
The HP7 Series is fully compliant with the IP68 and MIL-STD- 810 G standards.  It is dustproof, impervious to water jets, submersible to a depth of 2 meters for 4 hours and can stand up to drop shock testing at 2 meters.  The HP7 Series anti-magnetic speaker does not attract magnetic metal dust and shavings.
Enhanced Worker Safety
The HP7 Series radios are designed for worker safety with an easy access emergency button, emergency calling, and priority interrupt.  Lone Worker prompts the user to press a key or speak to indicate they are safe.  Man Down allows the radio to automatically enter emergency mode when the radio is inclined at a pre-set angle or remains motionless.
Longer Battery Life
The latest in lithium polymer technology is used to power the HP7 Series radios for excellent performance.  The battery is light and small, achieving a shift life of 24 hours on high transmit power with a duty cycle of 5/5/90.
Clear and Bright Display
The HP782 features a 2.4-inch, 240×300 HD TFT-LCD display with up to 10 lines of content and an  intuitive nine-grid interface.  The display supports 262,000 colors and is clearly visible in sunlight.  The HP702 features a 0.91-inch OLED display that shows the channel, signal strength, power status, power level, and BT status.
Enhanced GPS Location Tracking
HP702 and HP782 radios with optional GPS can report current location information to other radios, the dispatcher, or third-party applications in real time, enhancing the efficiency of visualized dispatch applications.  GPS data can be transmitted during voice calls for immediate location targeting, and GPS data can be compressed to increase channel capacity and reduce hardware cost.
Higher Security
The HP7 Series supports Digital End-to-End and Over-the-Air Encryption for voice and data transmitted on digital channels to prevent eavesdropping.  Hardware encryption is implemented through a built-in encryption card.  Software encryption uses the secure and reliable ARC4 and AES encryption algorithms.  Radio authentication prevents unauthorized users from accessing the system.  If a radio is lost or stolen, the system can Stun or Kill the radio to prevent unauthorized use.
Bluetooth and MicroSD Card
Optional built-in Bluetooth enables connectivity to wireless accessories.  The MicroSD card provides additional capabilities like voice recording.
Multi-System Operation
The HP7 Series can be deployed in a wide variety of analog and digital radio networks, including Analog and Digital Conventional, MPT and XPT Trunking, DMR Tier II and Tier III Trunking, IP Multi-Site Connect, and DMR Simulcast Systems.
Extended Coverage and Connectivity
The HP7 Series extends radio range through increased Tx power efficiency, Rx sensitivity, improved antenna gain, and reduced attenuation.  This produces a 25% increase in coverage distance and signal penetration through buildings.  The enhanced coverage improves efficiency and reduces network infrastructure costs.  Two patented technologies and a voice buffer reduces packet loss during Rx handover for consistently clear calls and fewer dropped words.
Greater Calling Flexibility
A variety of calling modes provides the flexibility to communicate with any or all users.  The HP7 Series supports Individual Calls (radio to radio, radio to dispatcher), Group Calls (one radio to many, dispatcher to many), All Call (broadcast call to all radios, transmit only), and Telephone Calls (requires connectivity to PSTN, PABX or SIP networks).